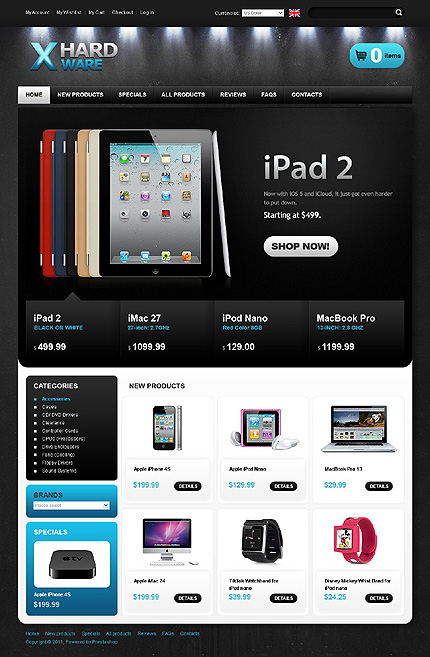 VIEW LIVE DEMO
Template Info :
Item number:
37792
Author: Ares
Downloads: 1
Sources Available:
.PSD;
.PHP;
Features: jQuery;
Functionality: online store/shop;
Styles: Neutral;
Width: 1980px;
SOFTWARE REQUIRED:
PHP 5.2.14 or higher;
MySQL 4.1.3 or higher;
Apache 2.0 or higher;
Apache configured with AllowOverride set to either \'All\' or at least both \'Limit\' and \'Indexes\' parameters, and preferably the \'Options\' parameter as well.;
PHP configured to support CURL with OpenSSL;
Adobe Photoshop CS+;
This is an awesome but simple template for Zen-Cart stores selling electronics! Don't sell electronics? Easily change the stock photo and this template could work for just about any type of shop you have.
Live Demo Available
!
GoDaddy.com
- Special Offer! 20% off New 12+mo Hosting plans! FREE setup, FREE Software, 24/7 Support, 99.9% Uptime and lots more features.
Save on domains too
!
VerticalResponse
- Grow your business with email marketing! Award winning email marketing, FREE TRIAL - Send 500 emails on us!
Doba
- Start your own online store and drop ship with Doba! They handle everything: dropship over 1million products, lowest wholesale price guarantee, they handle fulfillment, shipping - everything! You just list the products in your store and take the orders!
Elance
- Work Local. Staff Global. Find freelance work or hire Zen Cart freelancers!